Screen Name: Knightwing
e-mail: seanlorensen@hotmail.com
Unicron.com contributor since: 2006
Year of Birth: 1974
Primary Residence: Minnesota, USA
First Transformer Ever bought:
No idea! I sold all of my childhood transformers at grage sales when I was about 14. I started re-collecting in winter of 2002/2003. The first Transformer I bought at that time was the Super Class Optimus Prime
First series ever paid attention to: G1. I turned 10 during it's first season on the air.

Favorite TF Cartoon: I would love to say G1 because of it getting the ball rolling, but I can't. When looked at objectively it just isn't the best series ever. It also isn't the worst that would be RID. The best series in my opnion is Beast Wars, especially seasons 2 & 3.

Least favorite toy/persona: Wheelie's an easy one to dislike, because he was utterly annoying. But, I liked all of the human sidekicks even less (exept Kicker), mostly because they didn't even do anything related to the story. But, my least favorite persona is the Cybertron Soundwave. It's not that he was that bad a charactor. It's that it was such a slap in the face to his G1 self, and agian his presense was completly unnecessary to the story line.

Top 5 Favorite Toys of all time:
1.) Leader Class Movie Optimus Prime
2.) Masterpiece Optimus Prime
3.) Classics Mirage
4.) Masterpiece Megatron
5.) T.H.S.-2 Optimus Prime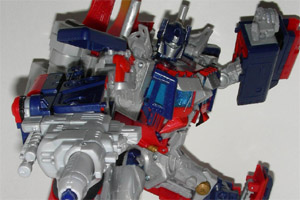 Most rare TF collectible I own: Botcon '06 Dawn of Future's Past Megatron (alomst made the top 5 favorite toys)
Lightning round!
Coke or Pepsi? Coke
Mikela, Black Arachnia, Maggie or Arcee: Maggie
Miller Time, Merlot Time, 2% milk time?
Coffee Time! Starbucks White Mocca!
Night owl or early bird? Early Bird
Others will be surprised to know that:
Like other fans, I collect because I love the shows and toys. I wouldn't spend money on 'm if I didn't. Another reason, is when I was a child I had real medical problems. The kind that ultimately required me to be on one medication or another from ages 3-14. The constant doses of meds had the net result of nearly wiping out my childhood memory. Among the few things I can remember from, "when I was a kid" are Transformers. So when I found Armada on Cartoon Network, I fell right back into it. And while I now do to some degree remember things, I will never remember them the way most people do. Having children of my own has done more to bring back my memories than anything else ever did.