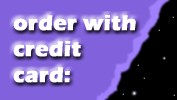 The fastest & easiest way to place your order is through "Pay Pal." There are a couple of easy steps you must follow to place your order. Please be sure to follow these steps carefully and if you have any additional questions please let me know! I'm happy to help! :)
1.) Establish your account with Pay Pal (if you don't already have one) by following THIS link and listing Perceptor@unicron.com as your referral source. In this way you can save $5 on your order!
2.) Provide Pay Pal with the credit card info you wish to use to place your order in their "Add a New Credit Card Section." This info is secure and safe with them.
3.) Once your credit card info has been entered, you are ready to place your order. Click the "Send Money" folder icon and input the following information:
Recipient's Email: Perceptor@unicron.com
Amount ($) <input the correct amount for your order, see above for amounts, in U.S. currency>
Recipient's Last Name: Lukis
Subject: order
Note: < In this section it is very important that you tell me ALL of the following information:
1.) what you're ordering
2.) where you would like your order sent.
3.) Your shirt size if you're getting one
That's it! Hit "Continue," then verify that the information is correct then hit "send money." Your order will be placed promptly and you can expect delivery in around in one to two weeks, sometimes less but I'm not promising it!
| | |
| --- | --- |
| | The other way to place an order is to mail a check or money order for the purchase amount and we will ship it as soon as the check clears or the money order arrives. Have your check / money order made out to Unicron.com, Inc. and send it to the following address: |
Perceptor@unicron.com
Unicron.com, Inc.
P.O. Box 494
Northfield, MN 55057
With your check/m.o. be sure to include the following information on a separate sheet of paper:
1.) A detailed list of what you are ordering. Be sure to include shirt size if you're getting one.
2.) Where you want the order sent.
3.) Your e-mail address, if you'd like to receive correspondence that your order shipped...