News & Updates:
2023-12-11 1:24 am by Unicron.com

This year Christmas comes early because Deathsaurus is here!

Finally having it in hand I must say, its even bigger and better in person.

This is quite possibly one of the BEST Transformers figure to date.

#TranformersVictory

2023-12-08 11:28 pm by Unicron.com

Were you wondering if that one scene could be recreated? If Bee could actually fit? Well it looks like a yes and a yes

2023-12-08 9:04 pm by Unicron.com

Some more images from Cybertron fest 2023 courtesy of Ben Custom Toys.

Tidal wave looks amazing! Definitely a must have for me. Looks like Hasbro Takara Tomy are giving us the best of both worlds by giving us a Titan Class Tidalwave AND smaller components to combine with Megatron/Galvatton.

#TransformersLegacyUnited #TransformersArmada

2023-12-08 8:47 pm by Unicron.com

Ooowee...time to get your wallets ready for Titan Tidal Wave!



2023-12-08 8:21 pm by Unicron.com

Oh boy! here we go! Are you ready for Cybertronfest 2023 ? The reveals are rolling in beginning to pop up all over the net.

Just based on this image, the cybertron Wheeljack looks like its going to be great!

Picture credit to Toyscope

2023-12-07 7:24 pm by Unicron.com

Entertainment Earth is having a buy one, get one 50% off on all in stock items! A great time to load up before Christmas.



2023-12-07 7:19 pm by Unicron.com

Titanic fun with Metroplex and Omega Supreme!

A few fan mode configurations I made up.

2023-12-07 7:17 pm by Unicron.com

Beast Wars Forever!!!!!

Legacy Leader Class Dragon Megatron is an awesome figure! In my personal opinion he even works well with some of the OG beast wars figures. Just in time for the holidays, I came across Amazon having a sale on him and others figures. Check around, expect to find more holiday sales all over. Happy Holidays everyone.

Legacy TM2 Megatron on Amazon:

https://amzn.to/3TfFkqe

2023-12-05 7:52 pm by Unicron.com

Hey all, this is Erik with ToyRobot Magazine and once in a while, I'll be sharing some longer articles highlighting various Transformers or Transforming robots. You guys have been providing wonderful feedback on some of my smaller write-ups, so I hope you enjoy this one as well.

-------------------------------------------------------------------------

Robot Transporter
The Budget-Saving Robot

Recently, Walmart's across the nation have started gearing up for Christmas and a new addition to their Kid Connect line of toys is the "Robot Transporter", a massive transforming robot that doubles as a base for ten small robot warriors. Found in their young children section, this bot will be tucked away with miscellaneous toys like car carriers, playsets, and dolls. Kid Connect is the in-house brand of toys and clothing made exclusively for Walmart and should be available in almost every store as well as online.
This robot comes in at a very affordable $20 and stands 22" (55.88cm) tall in robot mode. The alt mode is a carrying case where you can store all the small robots and their accessories in his chest. This toy is made from very cheap plastic and maximizes making use of hollow space. This makes it feel rather cheap, but it holds up to some decent wear and tear. The smaller bots included with him stand around 3" (7.62cm) tall and are made from the same plastic. They have interchangeable parts allowing for a LOT of combinations.
When opening this toy, keep track of the small cardboard found wrapped around the toy, it explains the play features and includes instructions on how to unpack the toy. I thought this would have been a simple process but ended up taking almost a half hour of messing around to get it all set up for play. You'll need to undo several plastic zip ties and then open his chest. There is a large gray piece here that will act as a key/screwdriver to undo the "bolts" holding several of the mini-robots in the arms and legs. These can later be used as cudgels by the robots, so don't throw them away. There are a total of ten small weapons that you will need to snip off a plastic tree. I'd advise using some smaller scissors as larger ones were a bit cumbersome for this task.
When all is said and done you should have the giant robot (Robot Transporter), ten smaller robots, ten weapons, two missile launchers, six missiles, six "bolts/cudgels), and one large tool/weapon, and two large robot wings. These massive wings can combine into a sword that can be held by the Robot Transporter. Also, the head has electronics that light up and play several sound bites.
The weapons are kind of neat as they seem to have drawn inspiration from several franchises from the past. There is a cannon that looks oddly like G1 Optimus Prime's rifle. A sword that is based on Cloud Strife's Buster Sword from Final Fantasy. An Uzi sub-machine gun, and even an axe that resembles a generic weapon that came with many vintage 1980s robot toys. The missile launchers are incredibly powerful and almost seem unsafe for smaller children. Due to the small size of these do not let children under three play with them (the toy makes sure to state this on the front).
This toy isn't for adults, so we won't nit-pick the cheap nature of the figure or the robots. This was meant as a cheap alternative to the current market toys. Here it destroys the competition. For $20 you're going to make a kid's day and they will be pretty popular on the playground with this behemoth towering over all the other toys. I do feel that after time all those little extras are going to go missing and the sword, once combined, is a pain to separate and may even break if a child were to use force. The weapons can be a pain to put on the little robots as not everyone will work on every bot; the shield is a major example of this. The missile launchers are supposed to fit on several ports on the Robot Transporter, but it's difficult to get them to stay put.
Is this a perfect toy"

2023-11-17 8:39 am by Unicron.com

A touch of fun combining two of my favorite franchises of all time, there's no limit to the fun that can be had.

2023-11-16 2:54 pm by Unicron.com

2023-11-14 10:18 pm by Unicron.com

Definitely an interesting look for Bumblebee, im not accustomed to seeing a big and bulkier styled Bumblebee but im sure it fits for the game. These two new figures look very well detailed and articulated, I have no interest in the game but im very interested in the toys and I look forward to seeing what other characters they may create. These 2 are a limited offering and available now for preorder.

Amazon:

https://amzn.to/477yJlA

Entertainmentearth:

https://ee.toys/NRQTTZ

TheChosenPrime:

https://www.thechosenprime.com/tfrsssbb2pk

2023-11-14 2:49 pm by Unicron.com

The Transformers Reactivate Optimus Prime and Soundwave two pack has been revealed!

I must say, these figures are looking very good, they are most definitely a step above the SS Gamer Edition figures, well atleast in my personal opinion. According to today's livestream, these may be limited so when they sell out, they may not be re-released for quite some time if at all. These are available for preorder now:

Amazon:

https://amzn.to/3MHv45M

Entertainmentearth:

https://ee.toys/6BBKP6

The Chosen Prime:

https://www.thechosenprime.com/tfrsswop2pk

2023-11-13 10:35 am by Unicron.com

Let's go back to the year 2005. I'm 22 and in the early years of my collecting obsession. The Armada saga was heading into the last chapter with Cybertron. I was constantly cruising fan forums and websites like Unicron.com and SuperToyArchive. On the side I was working on my very own fan site, Transformersontheshelf (now defunct). In this craze, I had secured a basic job and was starting to get a bit more cash to spend.

During this time I stumbled across the "for sale" page on SuperToyArchive and saw an Armada Tidal Wave test shot. Tidal Wave has easily become my favorite Transformer of all time and remains so to this day. There was just something so cool and fun about it. When I saw this test shot I had to have it and talked to the site owner, where we agreed on $250 + shipping. I had so little money, that I had to make payments!

Eventually, I had my first-ever prototype toy and was elated. It was like joining an elite club, I had stepped my game up and this was the crown jewel of my collecting. As time went on in 2008, I decided to get my first apartment and also help pay off some bills and debt/help my dad. To do this, I decided it was time to "grow up" and sell all of my Transformers. The first to go Was the Tidal Wave and it sold for some $800. I was happy with that, but as time went on, I lamented selling my collection and most of all, this gem of a figure.

Fast forward to 2023. I have been back into collecting for a while now and my collection has bloomed to well over 4,000 official Transformers items. I have several prototypes/test shots, tons of rare figures, and even some complete collections. Yet...that Tidal Wave still haunted me. It was time to hunt him down, I had the cash to burn and a decent reach of contacts, it was time.

I started putting out feelers and in almost no time I was directed to a Facebook group for rare Transformers collectors. We're talking about people who have multiple Lucky Draw toys, prototypes galore, and items most fans can only dream of. From here I was able to find 5 people who had a test shot Tidal Wave, 2 who were willing to sell, and after only 3 days, I was able to secure one!

Now, keep in mind, that there were only 20 or so of these ever made, and in 3 days I went from a hope and a prayer to finalizing a sale! Now, after an agonizing 15 years, I am the proud owner of a Tidal Wave test shot yet again.

I have some insanely off-the-wall and rare items in my collection, several far more valuable than this toy, but this...this is special. It's a reunion I never thought possible. So, Datstro Chan, thank you.

Now, I'm happy to share some pictures with you all and hope that each and every single one of you gets to have that crown jewel toy you're looking for. The hunt is 100% worth it. Never give up!

---Erik TRM
---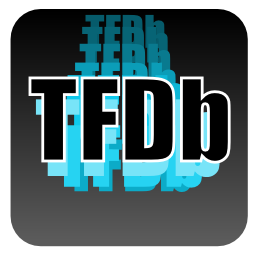 for Android & iOS
What is TFDB?