News & Updates:
2023-01-27 8:02 pm by Unicron.com

Scans from Figure King 300 Magazine #Transformers Hasbro TAKARATOMY

Includes new images of MPG (Trainbots) Seizan, #RiseOfTheBeasts Bum levee and Battletrap…

2023-01-27 7:41 pm by Unicron.com

Diaclone pre-Blitzwing TAKARATOMY #Diaclone #Transformers

Not sure I've ever even seen this toy/deco before.  Fantastic idea for a Legacy leader class recolor! I'd take one, but hopefully, as a new character! ;)

Courtesy of 变形金刚中国联盟 on Weibo -

https://bit.ly/3kPDsVV

Loosely translated Chinese…

"#月肖##星宿##丑牛##轸水蚓##旋风金刚#The three-stage deformation interceptor, the prototype of which is the 74-type main battle tank of the Japanese Ground Self-Defense Force and the other form is the MIG-25 supersonic fighter of the Russian Air Force, is a particularly precious one. It is rare for designers to realize the seamless deformation design of tanks and fighter planes with different volumes. At first, it was called MiG-25 in the Dyakron universe, and it became lightning after joining Transformers.

2023-01-27 12:23 am by Unicron.com

Oh dear, more cuts @Hasbro 😢

2023-01-26 12:53 pm by Unicron.com

Transformers Legacy Evolution Voyager Class Leo Prime( I'll be calling him Lio Convoy)

I love everything Transformers but there are two areas of Transformers that I have a special love for, those being Beast Wars and Japanese Transformers and Lio Convoy ticks both boxes.

I was never lucky enough to own the original Lio Convoy or any of the subsequent releases including the MP, I had for a long while considered getting the MP but I really didn't collect the MP scale any longer, after selling off most of my collection only MP Star Saber survived the cut but when I saw this, I knew that my desire for a Lio Convoy in my collection would soon be fulfilled.

Lets talk about Lio Convoy in robot mode, he's gorgeous, all of the major details are there, the colors are bright and heroic, the face is very Convoy(Optimus Prime) like, he looks very strong, agile and heroic. I love that the energon matrix was included in his design. The energon matrix even opens up and can accommodate a blast effect piece. All of the Legacy features of the Lio Convoy toy are included here although modernized for the common era meaning no spinning or firing gimmicks but in my personal opinion that is A-OK, no missles shooting off into the ether never to be seen again haha. You have the Lion claws that can be deployed both in robot mode and beast mode, you get all 4 of the flip out Lio Missles, you can even recreate the Lion Typhoon by folding out all of the flaps in the mane, oh and something that the original Beast Wars ll toy never had, you can recreate his Jump Jets / jet boosters which he did use in the show and guess what else? They are blast effect compatible so go ahead and add some jet effects for added fun.

Articulation in robot mode is awesome, you get everything you need to pull off some amazing poses. The head is on a ball joint and a panel which you can disengage for slightly more movement, shoulders are on a universal joint, we have a nice bicep swivel and 90° elbow bend, waist rotation, universal hips, thigh swivel, knees that bend 90° or more depending on how you utilize the joints there, you get a calf swivel from transformation and an amazing ankle tilt that allows for full Van Damme level splits.

The transformation from bot to beast is very smooth, simple and fun, quite an enjoyable experience with no fiddly parts or tiny parts that you have to worry about breaking, I let my 6 year old son play with this figure and nothing broke off and trust me, he likes to play rough sometimes haha. The figure and its transformation feel very solid and well put together, I have no worries about longevity which is interesting because I have quite a few of the original beast wars figures and they hold up well to this day most if not all still as tight and sturdy as the day I bought them over 20 years ago.

I have 3 main favorites when it comes to beast modes, Dragons/Dinosaurs, Gorrillas/Primates and Lions/Big Cats so I was very excited to get my hands on Lio Convoy and try out his beast mode and oh boy was I happy to find that his beast mode is one of the best there is. Getting a robot to change into something non mechanical always presents challenges so im usually very forgiving with beast modes, most times they come out like bricks with legs and I understand why, its a difficult process so that is typically what I expect but with Lio Convoy, his beast mode actually has some life to it. The arms and legs of the beast mode are pretty available for posing, now don't judge it by me because I'm not entirely sure how a lion articulates haha, but trust me you can get some cool poses. One of the aspects that I love the most about the lion mode is how well it hides a majority of the robot parts and there is very little paneling. Similar to the cartoon and the original toy, you can use all the cool play features from robot mode here too, you can deploy the lion claws, the lion typhoon and the lio missles. Its not official but something i came up with while

2023-01-24 11:06 pm by Unicron.com

#Transformers #RiseoftheBeasts cildren's book cover art

via on 蓝色正午 Weibo - bit.ly/3XBf5K5

2023-01-24 6:08 am by Unicron.com

2023-01-23 9:45 pm by Unicron.com

2022 #Transformers Section of unicron.com is Now Fully Up To Date - w/ every known figure of the year organized and listed.
www2.unicron.com/2022-transformers.html

What a year it was! Blitzwing, BW Inferno, The Fallen, Cosmos and Tarantulas get my votes for the top 5 best! ... Playing a little catch-up. Now, turning our attention to the considerable lists of known toys coming int 2023. Stay tuned.

Let's hear your top 5 of 2022!

2023-01-22 11:05 pm by Unicron.com

Beast Convoy, Lio Convoy, Big Convoy

Kingdom and Legacy Evolution have given us two amazing updates to the Beast Convoy trio, while the Beast Wars Neo mold may stand up for some, a new mold with modern technology and articulation would be amazing to see someday, maybe in five to ten years.

#BeastWars TRANSFORMERS

2023-01-22 11:00 am by Unicron.com

Two of the best Cybertronian fathers in history

One was an eager father adopting a boy who was in need, one was a reluctant father at first only seeing himself as a commander and his son as his soldier but eventually he grew to accept his new role as a father and he fully accepted his son as more than a soldier, he accepted him as family. Both had their struggles in parenting, being a father can be tough especially during a time of war but both did a great job at showcasing fatherhood in their own ways.

I hope we get Lio Convoys son someday in Generations maybe a few years down the road, a father isn't complete without his son especially Lio Convoy who can combine with his son into their most powerful form, id love to see that figure, its an easy retool that could work well as a Generations Select.

Hasbro TRANSFORMERS

2023-01-22 10:55 am by Unicron.com

Fun w/ G1 #Unicron Prototype #Super7 #Transformers

Courtesy of At The Moon:

"Ever since the new Super7 Unicron toy arrived I wanted to recreate that famous photograph of the Original prototype Unicron toy next to HotRod. Today was the day to finally get around to it." -

https://bit.ly/3J4YZUw

- www.transformertoys.co.uk

2023-01-21 9:00 pm by Unicron.com

The epic battle between good and evil takes many forms, sometimes it takes the form of a truck and a gun, sometimes the form of a gorrilla and a tyrannosaurus and
sometimes this epic battle takes on the form of a lion and a dragon.

Perhaps someday in the modern era, the battle between good and evil will take on the form of a mammoth, a giganotosaurus, a Quetzalcoatlus and an Elasmosaurus.

TRANSFORMERS

2023-01-21 4:04 pm by Unicron.com

You've probably seen the images and videos of a Legacy Evolution Deluxe Transformers Animated universe Prowl going around, if Transformers Animated is coming to Generations than its only a matter of time before we get a Transformers Animated Optimus Prime right? Well how awesome would it be if the Hasbro Takara Tomy team somehow found a way to bring to life the unproduced Animated Powermaster Optimus Prime trailer add on / power up? It could make for an amazing modern day figure but would anyone be interested in something like that?

TRANSFORMERS

2023-01-19 11:44 pm by Unicron.com

Not exactly a perfect puzzle piece match, but good enough theory for me!

To Cybertron be your home!
Far away never roam! …
#Transformers #Cybertron

2023-01-18 9:41 pm by Unicron.com

Cool Custom: Manta Ray! #Transformers #BeastWars

This is why I love Beast Wars fans! Here we are in the year 2023, it's 27 years after the series debut and and we're still making customs and yearning for more world building and character development! 🤣🤯This fan, Narciso Corral retool/deco'ed Depth Charge to create a legit figure for the 1997 McDs Happy Meal "Manta Ray" figure. Too cool!

Posted to FB group: Beast Wars Fans Forever -

https://bit.ly/3QNjLtH

2023-01-18 11:09 am by Unicron.com

Transformers Legacy Haslab Saber

This is the Saber component of Star Saber, his second smallest form, Brain of Courage Brainmaster > Saber > Star Saber > Victory Saber, and its a fun little figure indeed.

The Brainmaster is the smallest component of figure and boy is it tiny, try your best not to drop it especially if you have tall, thick carpeting. It has basic articulation in the arms and legs, enough to get him sitting in the jet cockpit which is all I need. In addition to going in the cockpit the Brainmaster can also be placed into the robot mode chest forming the face of Saber in a similar fashion to the original G1 toy albeit simplified and modernized.

I love the jet alt mode, it looks just like it does in the show with a touch of modern Generations flare. The transformation from jet to robot is simple and fun and very satisfying just like the original toy but with alot more playability and articulation.

Robot mode is super fun, he's kind of in the mini bot size range, smaller than your typical deluxe which make it easier for him to look great riding on other Transformers such as his good buddy Victory Leo. Saber has that G1 blockyness that so many tend to love and he is very well articulated. Saber looks great holding the Saber laser and Sword although the sword can appear a bit to big for him at times, the sword included with Legacy Armada Star Scream also works well with Saber, what was the name of that sword again from Transformers Armada? I can't recall. The nose of the jet mode forms his shield which can be placed on his shoulder or anywhere there is a 5mm port.

Haslab Saber is a fun little figure and I am super happy to have him, the Hasbro Takara Tomy team have been doing amazing things as of late and I hope they keep it up, I love that the Japanese side of Transformers is getting more love.

#Transformers

2023-01-17 11:05 pm by Unicron.com

#StudioSeries 99 Battletrap In Package Photos #Transformers #RiseOfTheBeasts

Awe jeez, really looking forward to this one - think he looks fab!

Courtesy of @morgan_dfx on Twitter -

https://bit.ly/3XAW4qH

2023-01-17 10:50 pm by Unicron.com

AIRAZOR #Transformers #StudioSeries Deluxe #TransformersRiseOfTheBeasts - - additional product photography from @hasbro

"The figure represents the first revealed toy for the character inspired by the movie being voiced by Golden Globes winner Michelle Yeoh.

…

Transformers Studio Series Deluxe Class 97 Airazor

(Ages 8 and Up | Approx. Retail Price: $24.99 | Available: 2/17/2023)

Download High-Res Images at the Link here

Bring the epic action of the Transformers movies from the big screen into your collection with the all-new Transformers Studio Series Deluxe 97 Airazor action figure! Featuring movie-inspired details and accessories, the new Studio Series Airazor action figure stands 4.5" tall and can convert from robot to peregrine falcon mode in 23 steps. The figure includes 2 photon blaster accessories that attach to the figure in both modes. The new Transformers Toys Studio Series Deluxe Class 97 Airazor is available now for pre-order at Hasbro Pulse and other major retailers.

Stay connected - via site & app:

unicron.com & TFDb

http://bit.ly/TFDb-app

2023-01-17 10:43 pm by Unicron.com

Masterpiece Cliffjumper Pre-order found on Show.Z Store - @takaratomytoys @hasbro #Transformers

It's the closest thing we have to official acknowledgement of the toy's existence!

Source:

https://bit.ly/3iT4LxI

2023-01-17 10:36 pm by Unicron.com

Masterpiece Cliffjumper Pre-order found on Show.Z Store - TAKARATOMY Hasbro #Transformers

It's the closest thing we have to official acknowledgement of the toy's existence…

Source:

https://bit.ly/3iT4LxI

2023-01-17 1:14 pm by Unicron.com

AIRAZOR #Transformers #StudioSeries Deluxe #TransformersRiseOfTheBeasts

We've already seen this fire breathing robo-hawk in the trailer. Check out new official product photography via TF on FB page.

Stay connected - via site & app:

unicron.com & TFDb

http://bit.ly/TFDb-app
---
Recent Site Updates: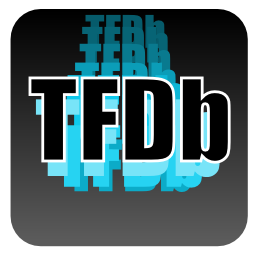 for Android & iOS
What is TFDB?