Lukis Bros Transformers Collector Site
News Item
Don Figueroa, New Concept Art & comics news!

Posted by:
Perceptor at 2007-12-06 7:48 am
(site update)
We did a little follow-up after reading the
interview with Don Figueroa
on
tfw2005
. When Don mentioned, "
...I'm actually off Transformers comics nowadays..."
did he mean that he doesn't want to be drawing TF comics or just that he doesn't have a current project w/ IDW? (Either way that sucks!) So we asked him and found out. I thought his response was both surprising and unfortunate.
"...
I'm just creatively frustrated. I've been drawing everybody else's vison of TFs for years now..."
and went on to explain that he would like to be more involved in the creative (writing) process. Now that his IDW contract has expired he's exploring his options. Personally, I think this completely bites and vote that we, the fans, get on the
IDW boards
and let our opinion be known! His creative talents will be sorely missed from the pages of Transformers, and in this fan's opinion, they (IDW Publishing) should do whatever it takes to get bring him back!
Could it be that you are unfamiliar with the bad-assness that is the art of Don Figueroa??? Just in case, we thought we would share with you, never before seen concept art Don worked on, or as those in the business like to call it "Doncept Art!"
Check out this glimpse at what might have been, for
ANOTHER VERSION OF VECTOR PRIME
! As Don put it, "
I just want him to look much older and a little hunched back, like that old Pervert in Family guy.
"
Also check out this
concept sketch of SOUNDWAVE
! Although he submitted this "
years ago, I think for Classics or Alternators
" it sure seems to be what they based the design of TF: Animated Soundwave upon to me.
Then there are these gems! G1 and Joes, versus our personal favorite! You just cannot possibly beat it!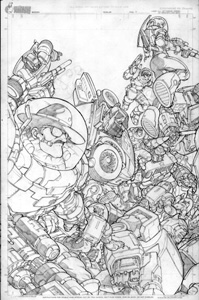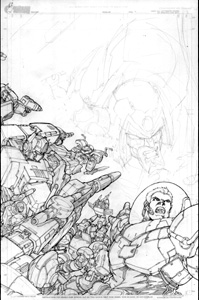 Okay, Transfandom. Let me say it again. Don't just sit on your collective rumps! Head over to the IDW forums and
tell IDW you think they should do whatever it takes
to retain the talent and services of one outstanding artist, Don Figueroa!
---
---