News & Updates:
2021-05-17 10:43 pm by Unicron.com

#Transformers #StudioSeries86 Wreck-Gar (Maybe!)

Image share by Kremzeek Reviews provides possible first glimpse.

Source:

https://bit.ly/33RU5Ex

2021-05-15 6:55 pm by Unicron.com

I'm convinced that the brewmasters of several of my favorite, local New England IPAs are #Transformers fans! ~ Hope everyone is having a great weekend!

I could be wrong, but wasn't there a G1 s3 episode where Kup hunts down a monster (on Regulon 4?) made of "Chaos Emeralds?!" Or maybe it's just that I'm so enveloped in Transformers mythology, I see them, in places even where it wasn't intended. Like a Rorschach test where all of my answers of what it the image makes me think of is Transformers! ~

2021-05-14 10:44 pm by Unicron.com

bit.ly/BigBadToyStore_Weekly-Update_5-12

Check out this week's update from our sponsor BigBadToyStore. Click the link above to place and order today!

--------------
NEW PRE-ORDERS
--------------
From the classic 1991 film Terminator 2: Judgement Day comes a super deluxe figure set of a battle damaged T-800 and the T-800 Endoskeleton! Iron Man steps onto the battlefield against Thanos in the ultimate fight for the fate of the universe. From Threezero's 1/6 scale collectible figure series comes a 16 inch tall Demogorgon figure with 24 points of articulation! Icon Heroes presents the G.I. Joe Cobra Logo Bookend! Featuring the Cobra Enemy logo, this polystone bookend measures approximately 6 inches tall. Alice, The Mad Hatter, Robin Hood, and Hyacinth Hippo are all ready for this next wave of Disney Ultimates! Twilight Sparkle's mentor, the ruler of Equestria, and the most magical pony, Princess Celestia, is joining the stylized Bishoujo figure line of My Little Pony characters! Beast Kingdom's Master Craft line of high-quality, handmade statues, takes on the mighty Son of Krypton, with the MC-040, Batman V Superman: Dawn Of Justice Memorial statue!

------------
NEW ARRIVALS
------------
Venom Marvel Legends Wave 2 with the Venompool Build-A-Figure are back in stock! Journey back to Tatooine and enter the Palace of Jabba the Hutt if you dare! Hidden within this pack are spoilers for the War for Cybertron series! Fans shouldn't decode the Cybertronian if they don't want key events from the show revealed! This Nemesis Prime figure is inspired by the character as seen in the War for Cybertron series. From the Disney+ series The Mandalorian, fully embrace the cuteness of the 50-year-old Yoda species with this adorable 11-inch The Child plush toy. Masters of the Universe: Eternia Minis multipacks are in stock once again!

2021-05-14 10:24 pm by Unicron.com

~ bit.ly/TFsource_Volcanicus-Set_Takara-Tomy
Takara Tomy Mall Exclusive TT-GS11 Volcanicus Set of 5 is now in-stock and shipping from our sponsor TFsource. This set includes all new weapons, combiner parts, and animation inspired decos. Order yours from the link above today!

2021-05-14 10:41 am by Unicron.com

RHINOX - #Transformers #WarForCyertron Kingdom Voyager

New stock photos courtesy of Dengeki Hobby (Japan) provide us a new, closer look at the upcoming Voyager figure. Beast mode looks good, very solid. I still wish that robot mode was a little more screen accurate. (But I still want it bad!). What are your thoughts?

Source:

https://bit.ly/3hqwdjn

2021-05-13 4:00 pm by Unicron.com

Masterpiece Jetfire grey model prototype #Transformers TAKARATOMY @TF_pr

First look of the upcoming Masterpiece figure comes courtesy of Transformers Generations Book 2021 (Japan only) ...

2021-05-13 3:54 pm by Unicron.com

#Transformers #WarForCybertron Kingdom Galvatron - First hand, in package photo courtesy of Transformers Collectors Club of Australia .inc @Transformerscca on Twitter

"Transformers Kingdom Galvatron spotted in the wild at Toyworld (feels like it's always Toyworld!) Rosebud, Victoria, Australia by TCCA member Jonathan. Priced at AU$95 on the shelf."

Source:

https://bit.ly/3tLdykW

2021-05-12 12:40 am by Unicron.com

Check out our sponsor update from BigBadToyStore

~

http://bit.ly/BBTS_Sponsor-Update_5-5

--------------

NEW PRE-ORDERS

--------------

Bishop, The Last X-Man, joins the One:12 Collective! Quicksilver's ultra-high-speed capabilities are a major asset to the Avengers in the fight against Ultron, and now he's joined the Marvel Legends Series! Storm Collectibles presents the Ultra Street Fighter II action figure - ZANGIEF! The Wand Company is excited to bring you this highly accurate Great Ball replica! This Great Ball features a colored surface that is sensitive to touch and proximity. EXO-6 is proud to present the next 1:6 scale articulated figure from Star Trek™: First Contact – Captain Jean-Luc Picard. Designed and engineered by Numskull Designs, these awesome poseable figures are sure to stand out in your Doom collection! This solar powered little bounty from the Mandalorian is stronger than you think! Attach the child waver to your dashboard so this precious cargo can flourish when exposed to light. Inspired by the 3rd season of the classic 90s anime series, Sailor Moon S, Sailor Pluto returns to the S.H.Figuarts line with the same poseability and proportions; this time, featuring updated colors and packaging! From Super7 and Diamond comes a Teenage Mutant Ninja Turtles Mirage Variant PX Previews exclusive boxed set of 4 figures.

------------

NEW ARRIVALS

------------

The G.I. Joe Classified Series Cobra Infantry action figure comes ready for a fight, with multiple points of articulation for high poseability and 5 character-inspired accessories. And with custom artwork by Kekai Kotaki, the G.I. Joe Classified Series Cobra Infantry package will make a mark on shelves. Clone Commander Wolffe (clone designation CC-3636) served in the Clone Wars as commander of the tight-knit unit known as the Wolfpack. This 6 inch scale Clone Commander Wolffe figure is carefully detailed to look like the character from Star Wars: The Clone Wars. Venom, Carnage and Ghost-Spider Marvel Legends Series figures are back in stock! Add onto your 1/18 scale Acid Rain military collection with Tamara, Combat Instructor Kelsey, and the Osprey Commando! Macross fans, be sure to grab the 1/12 scale figures of Rick Hunter, Lisa Hayes and Lynn Minmei!

2021-05-11 4:54 pm by Unicron.com

Today's Reveal: Kingdom Grimlock & Earth Mode Mirage

Via TF social feed:

It's #TransformersTuesday! The Battle Across Time Collection features a Beast Wars and G1 team-up, millions of years in the making! Join Mirage and Maximal Grimlock as they work together to stop the Decepticon-Predacon threat. Pre-order is available now on Amazon.com:

https://go.hasb.ro/3y0GmZX

#BW25 #BeastWars25 #WFCKingdom #Transformers #Autobots #Maximals #Decepticons #Predacons #MoreThanMeetsTheEye

2021-05-09 2:16 pm by Unicron.com

CONCENSUS! Quintesson Judge Deseeus - #Transformers #WarForCybertron Earthrise - Only 2-3 months until the next chapter on #Netflix. Bring it on! We're ready.

2021-05-08 1:47 pm by Unicron.com

May 8th, 1984, Transformers issue 1 by Marvel Comics appears in newsstands!!!

Happy 37 years, Transformers!!!

2021-05-07 6:08 am by Unicron.com

"Premium Finish" #Transformers TAKARATOMY

Interesting listing by UK based retailer, In Demand Toys. It appears that Takara will be releasing figures with a more show accurate deco. For example, Siege Optimus Prime with green windows as seen on Netflix series and Studio Series Bumblebee movie with more rusty deco ... though it's a little hard to tell, given all the red lettering obscuring the view.

Source:

https://bit.ly/3b9CR9A

"Here is a look at the new Takara Premium Finish Bumblebee Movie Bumblebee and WFC Optimus. We will have these up on the site soon."

2021-05-04 11:26 pm by Unicron.com

May the 4th be with you!

And now face oblivion!!!

2021-05-04 10:17 pm by Unicron.com

Deseeus Army Drone #Transformers #WarForCybertron, #Netflix Ed, Special thanks to @Hasbro for the #FreeSample

Been holding a little grudge against this toy since the moment Double Dealer yelled in response to the Quintesson betrayal, "Oh yeah, you and what army?!" And an army of Ironhide recolors jumped out to take control! (On the Netflix series.). Yeah, we would've preferred an army of Allicons or even Sharkticons. Yet this toy is so unexpectedly good, it surprisingly found a way to win me over.

First off, it's cool that they chose this color scheme for this role - being that the pre-Transformers - Diaclone color scheme of G1 Ironhide was black and silver/grey. Also, it makes sense to me - in a fictional weird way, that Quintessons would have an army of G1 model recolor drones, given their G1-explained history of ruling Cybertron as a factory for manufacture of domestic and military hardware, which were the precursors the Autobots and Decepticons. That they would have an army of drones which resemble a familiar G1 character is cool by me.

Now, I may be in the minority here, but I think the shiny jet black plastics w/ silver battle damage paint deco, alongside with the sliver/grey plastics with a black paint-wash looks absolutely bad@$$. It accentuates the black/silver deco without it looking too contrasting. Couple that with the subtle fluorescent greens in the weapon and Quintesson symbol and purple windshield and you've got a phenomenal deco on an already awesome mold from Siege.

By the way, is this the first time an official toy has had the Quintesson faction Symbol?

Overall, I think it looks fantastic and actually makes a fine troop builder *alongside my already strong Alicon army and Quintesson Pit of Judgement set! Cannot believe I'm going to say this, but I'm definitely planning to pick up more when I finally see this figure at retail stores.

Stay connected - via site & app:

unicron.com & TFDb

http://bit.ly/TFDb-app

2021-05-03 10:32 pm by Unicron.com

UPC Codes for 2022 #StudioSeries #Transformers (?!)

Via data mining by Mr Chaos of the tfw2005 boards, several surprising (and welcome!) listings for the possible future of Transformers. Obviously unconfirmed, take this with a grain of salt. But still fun to postulate on Studio Series future! Listings include entries from Bumblebee Spotlight film and 1986 TFTM.

Tra Gen Studio series Deluxe TF6 Brawn

UPC: 195166158516

Tra Gen Studio series deluxe TF6 Ratchet

UPC: 195166158532

Tra Gen studio series deluxe 86 Perceptor

UPC: 195166158556

Tra Gen studio series deluxe TF6 Wheeljack

UPC: 195166160016

Voyagers:

Tra Gen Studio series voyager TF6 Soundwave

UPC: 195166153438

Tra Gen Studio series voyager 86 Junkyard (Wreck Gar Re-tool)

UPC: 195166158525

LEADER:

Tra Gen studio series leader 86 King Starscream cape

UPC: 195166153421

Source:

https://bit.ly/3efODk

2021-05-03 4:34 pm by Unicron.com

If you could design a Transformer...

Name?
What allegiance would it be?
Alt mode?
Main stats?
Universe and basic storyline?

2021-05-02 12:52 pm by Unicron.com

bit.ly/TFsource_Xtransbots_Swarm-Cartoon-Set

Don't miss out of our sponsor TFsource's special weekend sale on X-Transbots Masterpiece scale Swarm Team set of three! Order yours from the link above today!

2021-05-01 9:54 pm by Unicron.com

bit.ly/TCP_Transform-Element_Stinger-Warrior

Transform Element toys TEMM003 Stinger Warrior Scorpion, is now up for pre-order from our sponsor The Chosen Prime! Reserve yours from the link above today!

2021-05-01 9:25 am by Unicron.com

Check out the weekly update from our sponsor BBTS:

~ bit.ly/BigBadToyStore_Sponsor-Update_4-28

--------------
NEW PRE-ORDERS
--------------
The Bodiless Burbling Brain, the Swamp-stompin' Ragin' Cajun Gator, the Fist-Fighting Fish, and the Samurai Battle Commander are ready for action! The latest wave of Teenage Mutant Ninja Turtles ULTIMATES! brings you some of the cartoon's most colorful characters. These made-to-order, highly articulated, deluxe action figures stand 7" tall and feature a variety of interchangeable parts and signature accessories! From the 2004 film Godzilla: Final Wars, the titanic kaiju Gigan rejoins S.H.MonsterArts in a new Great Decisive Battle Version. Based on the small plastic sword accessory that accompanied the original He-Man action figure, Factory Entertainment's artisans reimagined it as a real-world sword and have forged a stunning artifact that bridges the realms of fantasy and reality. This officially licensed 40-inch long Power Sword prop replica features a full tang blade crafted from stainless steel with a mirror-chrome finish. Adding realism to this iconic sword, the metal guard features an antique foundry finish and the handle is wrapped in a brown leather. Iron Studios presents Sub-Zero and Scorpion from Mortal Kombat! The young protagonist from NieR Replicant ver.1.224744987139..., the updated version of NieR Replicant, joins the Bring Arts lineup! From the popular anime series "Demon Slayer: Kimetsu no Yaiba" comes a figma of Zenitsu Agatsuma!

------------
NEW ARRIVALS
------------
New figures from McFarlane's DC Multiverse have arrived with Batman, Bizarro, Nightwing and more! The Thrawn Star Wars: The Black Series action figure comes with a Grand Admiral Thrawn-inspired accessory that makes a great addition to any Star Wars collection. Superfans can bring heroes and icons to life with these Mega Construx buildable figures based on their favorite characters from TV, movies, games, and more! From sci-fi nostalgia to Saturday morning cartoons, find your favorites with highly collectible characters from TMNT, Splinter Cell, Borderlands, and Predator. Create amazing scenes from your favorite television shows, movies and more with this huge NECA Street Scene Diorama, sized to work with most action figures from 6 to 9 inches tall. Brains, Brains, BRAINS!!!!! This limited run, BBTS Shared Exclusive cryo-zombie is filled with fun!
---
Recent Site Updates: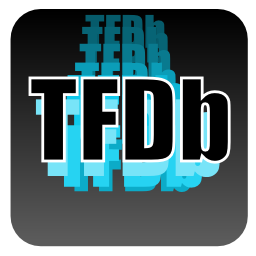 for Android & iOS
What is TFDB?