News & Updates:
2023-11-17 8:39 am by Unicron.com

A touch of fun combining two of my favorite franchises of all time, there's no limit to the fun that can be had.

2023-11-16 2:54 pm by Unicron.com

2023-11-14 10:18 pm by Unicron.com

Definitely an interesting look for Bumblebee, im not accustomed to seeing a big and bulkier styled Bumblebee but im sure it fits for the game. These two new figures look very well detailed and articulated, I have no interest in the game but im very interested in the toys and I look forward to seeing what other characters they may create. These 2 are a limited offering and available now for preorder.

Amazon:

https://amzn.to/477yJlA

Entertainmentearth:

https://ee.toys/NRQTTZ

TheChosenPrime:

https://www.thechosenprime.com/tfrsssbb2pk

2023-11-14 2:49 pm by Unicron.com

The Transformers Reactivate Optimus Prime and Soundwave two pack has been revealed!

I must say, these figures are looking very good, they are most definitely a step above the SS Gamer Edition figures, well atleast in my personal opinion. According to today's livestream, these may be limited so when they sell out, they may not be re-released for quite some time if at all. These are available for preorder now:

Amazon:

https://amzn.to/3MHv45M

Entertainmentearth:

https://ee.toys/6BBKP6

The Chosen Prime:

https://www.thechosenprime.com/tfrsswop2pk

2023-11-13 10:35 am by Unicron.com

Let's go back to the year 2005. I'm 22 and in the early years of my collecting obsession. The Armada saga was heading into the last chapter with Cybertron. I was constantly cruising fan forums and websites like Unicron.com and SuperToyArchive. On the side I was working on my very own fan site, Transformersontheshelf (now defunct). In this craze, I had secured a basic job and was starting to get a bit more cash to spend.

During this time I stumbled across the "for sale" page on SuperToyArchive and saw an Armada Tidal Wave test shot. Tidal Wave has easily become my favorite Transformer of all time and remains so to this day. There was just something so cool and fun about it. When I saw this test shot I had to have it and talked to the site owner, where we agreed on $250 + shipping. I had so little money, that I had to make payments!

Eventually, I had my first-ever prototype toy and was elated. It was like joining an elite club, I had stepped my game up and this was the crown jewel of my collecting. As time went on in 2008, I decided to get my first apartment and also help pay off some bills and debt/help my dad. To do this, I decided it was time to "grow up" and sell all of my Transformers. The first to go Was the Tidal Wave and it sold for some $800. I was happy with that, but as time went on, I lamented selling my collection and most of all, this gem of a figure.

Fast forward to 2023. I have been back into collecting for a while now and my collection has bloomed to well over 4,000 official Transformers items. I have several prototypes/test shots, tons of rare figures, and even some complete collections. Yet...that Tidal Wave still haunted me. It was time to hunt him down, I had the cash to burn and a decent reach of contacts, it was time.

I started putting out feelers and in almost no time I was directed to a Facebook group for rare Transformers collectors. We're talking about people who have multiple Lucky Draw toys, prototypes galore, and items most fans can only dream of. From here I was able to find 5 people who had a test shot Tidal Wave, 2 who were willing to sell, and after only 3 days, I was able to secure one!

Now, keep in mind, that there were only 20 or so of these ever made, and in 3 days I went from a hope and a prayer to finalizing a sale! Now, after an agonizing 15 years, I am the proud owner of a Tidal Wave test shot yet again.

I have some insanely off-the-wall and rare items in my collection, several far more valuable than this toy, but this...this is special. It's a reunion I never thought possible. So, Datstro Chan, thank you.

Now, I'm happy to share some pictures with you all and hope that each and every single one of you gets to have that crown jewel toy you're looking for. The hunt is 100% worth it. Never give up!

---Erik TRM

2023-11-05 7:54 pm by Unicron.com

Here's a quick look at a classic G1 era "artifact". Artifacts was a term loosely used in the early days of the internet for anything non-toy related for a franchise; in this case branded items with the Transformers logo. It's a term that isn't used as much in 2023, but an old guy like me insists on using it.

This cool little piece is a G1 lenticular bi-fold wallet featuring the Decepticon Ravage. Lenticular items were all the rage in the 1980s and have been around in some form or another since the early 1900s, and at least one example of a painting using this concept from the 17th century!

This wallet is made from plastic and vinyl and is often prone to damage due to the cheap materials. It can transition from the Transformers logo to an image of Ravage leaping into an attack. The version shown here is luckily in brand new condition but very hard to photograph.

There were several wallets made in the 1980s and they were procured in several regions of the world. What a fan might have had in the USA would vary from a UK, Japanese, or Brazillian fan.
So, this was a rather short write-up today, but I had recently come across this relic and wanted to share it with you all. Let's see some of those Artifacts that your fans have and what makes them special to you!

Until next time,
---Erik B. TRM

2023-11-02 4:34 pm by Unicron.com

Time for another G1 throwback and today we're taking a quick look at Sandstorm. One of the original Triple Changers, Sandstorm is a pretty fun toy and sometimes one of the more forgotten G1 figures.

Though the robot mode for this figure is insanely blocky, with the tiniest little arms that you could pose up and down to aim his blaster, he still looked pretty decent. The biggest issue with these triple changers was an uphill battle to make room for three modes and still make everything fit into place. Clearly, the robot mode was voted on to have the least amount of play value but does a good job of hiding his two alt-modes.

The conversion into Dune Buggy is pretty simple and would look amazing if it wasn't for that helicopter fin sticking up in at the tail end of the vehicle. Make note that the instructions call for the tail to be half-lifted in this mode, but the reasoning is never explained.

The helicopter might be the best as it's a nearly perfect execution of hiding the other two modes; ironically, it's this helicopter mode that stifles the other two in their modes. The downside is that the blades over time will become very loose and do not like to stay in position.

This figure is, as mentioned, one of those slightly forgotten gems. Not an "A" list toy by any means, but not a low-grade one either. For fun, let's say he's a "C" tier figure for popularity. What's surprising is that he is getting rather hard to find after nearly 37 years. A quick search of eBay shows less than 70 listings available for this toy and his prices have held up well over the years (even to my surprise as I write this). Loose figures are selling for $50-$80+ with his gun and boxed examples are in the $200+ range!

I think most kids today would be rather board with his lack of articulation, but at the same time enamored with the erase of transformation and his three modes.

As always, forgive my shoddy workspace while I take pictures, eventually, I'll get a better set up for y'all. Until then, I'll keep scouring my shelves for fun items to write about and share with you TF fans of the world.

---Erik B. TRM
---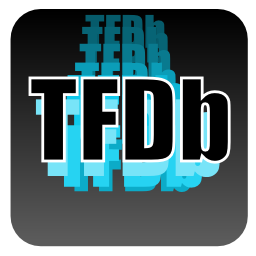 for Android & iOS
What is TFDB?