News & Updates:
2023-10-03 7:14 pm by Unicron.com

Here's a quick look at the incredible Buzzworthy Bumblebee Troop Builder Pack. I just got my two copies of this set in, and yes, though they were mailed in a giant box, semi-well packed, both had stickers on the front of the box and one was heavily dented in one corner.

Ages ago at ToyRobot Magazine we had mentioned how much fun it'd be to have troop-building packs, and now here we are! Hasbro/Takara...have you been reading our magazine?! Back on topic, this set includes four bots, all repaints/retools of existing molds. The four bots are Decepticon Seeker, Quintisson Trooper, G2 Universe Cybertronian Trooper, and Animated Universe Autotrooper.

The least interesting in this set is the Seeker as it's just a basic figure with the two cannons; meanwhile, the other figures all include extra heads that can be swapped out. This is why most fans will find themselves buying two sets and is a smart financial move from Has/Tak.

The Quintesson Trooper is a favorite mold of mine and I could honestly have a hundred of them and still buy more. Though the transformation is a bit sloppy on the figure (his robot hand is clearly visible in robot mode), this bot is still insanely cartoon-accurate and we expect him to fetch decent prices down the road.

G2 Cybertronian Tropper is a bit outside my normal wheel of knowledge as I'm notoriously bad about keeping up with comics and cartoons. This figure is a retool of the Skullgrin toy and is a great figure overall. It has a softer plastic feel to it and captures its source material perfectly. Switching out the alternate heads on this figure was a bit of a pain.

Animated Universe Trooper is a great use of the Ironhide mold. There's just something fun about the transformation, especially with the legs and unique rotating torso design. He also comes with a surprising alternate head that is based on the extremely controversial Kiss Players line. To see this line officially recognized in America, let alone in a mainline series, is a bit crazy.

Overall this is just a fun and cool set that is for the die-hard collectors who want armies for their displays or to finally have certain representation in their collections. Is it for everyone, no, but if you're like me, this is well worth the money.

---Erik
TRM

2023-09-30 11:01 pm by Unicron.com

Clickbait siliness but still a fun read…

2023-09-29 11:41 pm by Unicron.com

#TransformersRiseOfTheBeasts #StudioSeries Leader Class #OptimusPrimal #Transformers #BeastWars

He is easily my favorite character in Rise of the Beasts. TBH, no one else is even close. It is, therefore really important to me that they get this toy right - screen accurate, pose-able and well-deco'ed. There is, for example, no beast mode, head sculpt more important to get right than this. The team @Hasbro seems to have nailed it! The deco seems also to really accentuate the on-screen details and shines through nicely

Obviously, I cannot speak to how fun or well-designed is the transformation. Nor can I say much about pose-ability. I asked a Hasbro rep to see if we could get the upright gorilla in an hunched over and walking on all fours stance. The Hasbro showroom rep, to her credit tried - but obviously knew very little about the movie, nor how to pose action figures. (Bummer there was no-one from the Transformers brand team that I saw in attendance to ask. Hopefully, we'll have this one in-hand soon enough, and see for ourselves…. He was, for me, the highlight of the *show - both the film as well as #toyfair2023.

Stay connected - via site & app:

unicron.com & TFDb

http://bit.ly/TFDb-app

2023-09-29 10:47 pm by Unicron.com

Hasbro TRANSFORMERS Display #ToyFair2023

A pretty humble return to in-person "events" as compared with the glory days of pre-Covid era shows. Zero new reveals and no signs of Generations Legacy United, with just a few toys we don't already have, #StudioSeries Mirage, NIghtbird and #OptimusPrimal. #Transformers #TransformersRiseOfTheBeasts #BeastWars Beast Wars Fans Forever

2023-09-29 9:53 pm by Unicron.com

Oh! A tough guy, huh? I like that. I like it A LOT! #TransformersRiseOfTheBeasts #StudioSeries MIRAGE! Hasbro TRANSFORMERS Paramount+

I'll tell you you what I like - seeing that official Porsche logo on the door panels and legs. Gotta believe there will be more official Porsche toys to come! (Not the least of which, hopefully a MP Jazz in the works!)

He's definitely a favorite character in the recent film this screen accurate toy is overdue! "Street date on this toy is Sunday, October 1." So keep your eyes peeled. Hopefully it won't be too long and we'll have the real thing in our own hot little hands. Really glad for the changes the design team made, (wouldn't be surprised if it was after the film's release) to make his as screen accurate as he is. I enjoyed his depiction in the film and he definitely deserves a worthy Studio Series figure. Can't wait.

A highlight of the film, this toy was also one of only a few highlights of #toyfair2023. Transformers presence was meager shadow of its former self, and the glory days of years past, pre-COVID... We didn't see any of the Generations Legacy United toys, and nary a whisper of mention of Transformers: ONE. I bet there'll be toys - but we sure weren't allowed to talk about it. Oh well, gotta start somewhere!

Stay connected - via site & app:

unicron.com & TFDb

http://bit.ly/TFDb-app

2023-09-29 10:34 am by Unicron.com

Huh!?
TRANSFORMERS #Transformers #MoreThanMeetsTheEye Hasbro

2023-09-29 10:16 am by Unicron.com

MASTERPIECE RHINOX #BeastWars #Transformers TRANSFORMERS タカラトミー #TakaraTomy Hasbro

It's a good day for Beast Wars Fans! I will say, if there is one as yet unmade and important character that deserves the MASTERPIECE treatment, and that I've been waiting for, it is THIS. Source: unknown. Let's go!

Stay connected - via site & app:

unicron.com & TFDb

http://bit.ly/TFDb-app

2023-09-29 10:06 am by Unicron.com

It's been years - pre-COVID since Hasbro hosted an in-person event for us to photograph and cover new figure displays. Looking forward to sharing all that we see there, later this afternoon! #Transformers TRANSFORMERS タカラトミー Stay tuned!

Stay connected - via site & app:

unicron.com & TFDb

http://bit.ly/TFDb-app

2023-09-29 9:53 am by Unicron.com

Stand back citizen! #BeastWars Silverbolt image leaking its way across the internet!
#Transformers

2023-09-28 6:21 pm by Unicron.com

Legacy Evolution Armada Powerlinx Hot Shot with Jolt courtesy YellaWolf Studios Product Photography

2023-09-26 9:48 pm by Unicron.com

TRANSFORMERS #1 (very little?!) SPOILER ALERT
#Transformers Hasbro Skybound Entertainment

2023-09-24 5:24 pm by Unicron.com

TIGERHAWK - part hawk, part tiger a Fuzor, Transmetal 2 #LegacyUnited 2024 Leader Class #BeastWars Beast Wars Fans Forever #Transformers TRANSFORMERS Hasbro

I know the writers were not enthusiastic about having to cram this this story into the series finale, but I always love his short lived, yet impactful run of the final few episodes. Tigerhawk was always a fan favorite of mine and I'm thrilled to be getting a more show accurate deco/mold of this Maximal power-house!

Mark talked about 'borrowing from the Kingdom series line, and adding elements from Airazor, and Tigatron… wing blasters are removable to become hand-held weapons. Feathered wing/swords are detachable. No vacuum metalized parts yet, but they teased may be coming later, presumably other toys.

Debuted on this weekend's #HasbroPulseCon I'm super glad to see the figure, (with window) when in package.

Stay connected - via site & app:

unicron.com & TFDb

http://bit.ly/TFDb-app

2023-09-24 4:17 pm by Unicron.com

Leader Class #Transformers Returning to OPEN WINDOW PACKAGING - So you can see the figure while in package! 🤘🤘🤘

2023-09-24 4:04 pm by Unicron.com

#TransformersPrime Universe THUNDERTRON

This one is an interesting choice for me. You can read about the character on the wiki. In short, he was the peg-legged leader of the Star Seekers a faction of space PIRATES, originally planned as the antagonists of Prime season 3, before being replaced with the army of dragon, "Predacons."

https://tfwiki.net/wiki/Thundertron

Mark and the design team teased,

"He's searching the galaxy, maybe in search of some powerful rock characters… who knows what this guy is up to?! My hope is that someday we get the story of the Star Seekers and Thundertron told. Who knows, maybe Skybound Entertainment the new TRANSFORMERS comics license holder will pick up the mantle and pick-up where the story left off?! Among other tie-ins to continuity, his starship is (of course!) the TIDAL WAVE! 😉 - who, as you can see, is prominently featured on the upcoming #LegacyUnited character art - Titan of 2024.

What does everyone think of adding this guilt to the mix? To me, if they wanted to do a Voyager from Transformers Prime, I'd have preferred the never-made Insecticon, voiced by David Kaye. A figure of which was never produced (small Cyberverse version doesn't count!). But hey, there's no arguing how rad he looks with his peg-leg and beard, ARRRRRRGH!

Stay connected - via site & app:

unicron.com & TFDb

http://bit.ly/TFDb-app

2023-09-24 3:37 pm by Unicron.com

Cyberverse Windblade - #Transformers 2024 Generations Deluxe

Took me awhile to get into it, but I think Cyberverse was a pretty well done series, and Windblade was certainly a highlight. We've had quite a few different toys over the years, but this one, may prove to be the definitive version. Nice head sculpt, seats in the airplane cockpit, Energon flame sword doubles as exhaust contrails. Mark and Evan of the Hasbro TRANSFORMERS design team also teased the possibility of more Cyberverse designs to come.

Stay connected - via site & app:

unicron.com & TFDb

http://bit.ly/TFDb-app

2023-09-23 11:05 pm by Unicron.com

#Transformers #RescueBots CHASE! TRANSFORMERS Hasbro タカラトミー

A lot of fans who grew up with and were introduced to the brand with the Rescue Bots, have been asking for Generations quality level figures of these characters. BMac teased additional functionality with this toy, … interacting with something/someone else coming later this year?! … "what he gets used for … (being revealed) six-ish months from now… will blow your mind!" Maybe a combiner? Maybe referring to who this toy could be a partial designed into another figure?!?! Oooh let the speculation begin!

How do you feel about the Rescue Bots joining ranks with other Generations character/figures?!

Stay connected - via site & app:

unicron.com & TFDb

http://bit.ly/TFDb-app

2023-09-23 9:00 pm by Unicron.com

MAGNEOUS! Deluxe Scale "Rock2" Armorizer

This character gets his base skeletal structure from Obsidian, a coarse volcanic rock. Like the Junkions, you do not need to disassemble to transform them. But they can come apart - to create armor, "Armorize" other figures. They talked about this feature, didn't show it - yet. Of course, more to come! What does everyone think of this?!?!

And yes. This Gen X'r thinks he's terribly clever setting this reel to Def Leppard's "Rock of Ages" epic hair metal of the 80's!

🤘🤘🤘🤘🤘🤘🤘

https://fb.watch/nfkEQ1O8fb/?mibextid=I6gGtw

Stay connected - via site & app:

unicron.com & TFDb

http://bit.ly/TFDb-app

2023-09-23 8:41 pm by Unicron.com

BOULDERCRASH! Is from the "Infernac Universe" (ready for this DEEP dive into the lore? Via "Inhumanoids") Code Name: Rock1,2… for Distributors, these are "Armor-izers" - the Weaponizer/Junkion/Fossilizer of the year 2024

This character draws inspiration from the #TransformersHeadmasters series, also an タカラトミー #takaratomy Japanese exclusive series; as well as the Go-bots: Rock Lords! This one transforms also into a "Rock Weapon" that can be used by other Armorizers (more on this later 😉). He was originally based on red quartz, but they needed some further accent colors, and added the molten lava look!

Additional source:

https://tfwiki.net/wiki/Infernac_Universe https://tfwiki.net/wiki/My_Friend_Sixshot!

Stay connected - via site & app:

unicron.com & TFDb

http://bit.ly/TFDb-app

2023-09-23 8:17 pm by Unicron.com

#BeastWars II タカラトミー #takaratomy's "Beast Wars Second" Tasmania Kid (1997 Snarl in North America)

He is a young confidant to this year's Voyager Leo Prime. Very cool addition to the Core Class series of 2024 #TransformersUnited. Love the design and that Hasbro TRANSFORMERS team is incorporating characters from so many different series over the years! Revealed during #HasbroPulseCon 2023

Stay connected - via site & app:

unicron.com & TFDb

http://bit.ly/TFDb-app

2023-09-23 6:44 pm by Unicron.com

In 2024 TRANSFORMERS turns 40 Years Old!

My goodness a lot of amazing toys over a long period of time. Who would have thought back in 1984 that this toy and cartoon series would lead on to all that it has become!? A multi-million (billion?!) dollar toy/television and film franchise. Congratulations #Transformers and thanks to everyone @Hasbro for keeping the dream alive. Looking forward to what the next eras could entail! 👏👏👏👏👏
---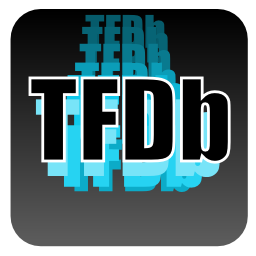 for Android & iOS
What is TFDB?