News & Updates:
2021-06-11 10:39 am by Unicron.com

Waspinator has planzzzzzz! #Transformers #WarForCybertron

Seems to be an entirely new mold as compared with the previous Generations figure … We get our first look at the rumored Kingdom Deluxe figure c/o @QueenStodge on Twitter -

https://bit.ly/3izFoyp

2021-06-11 10:31 am by Unicron.com

Galvatron Comparison Photos - #Transformers #WarForCybertron

See the new Leader Class Kingdom figure, side by side with the G1, Titans Return and Universe versions - Courtesy of @Ishidawa_sunday on Twitter. -

https://bit.ly/3wgMqwc

Loosely translated Japanese:

"Reprint from the left "D-62-S Destruction Emperor Galvatron "

KINGDOM "WFC-K28 GAL VATRON"

TITANS RETURN "GALVATRON"

UNIVERSE "GALVATRON"

KINGDOM version, interesting with unexpected deformation patterns.

After that, Rodimus Prime is fast ..."

2021-06-10 1:13 pm by Unicron.com

Thy Kingdom Come! July 29 #Transformers #WarForCybertron #Netflix

Primal and his Maximals watch the Ark descend while Dinobot, Megatron, Blackarachnia and the Predacons follow the Nemesis in new promotional images, via Netflix-Geek @NetflixGeeked

"The final installment of the Transformers: War for Cybertron trilogy, KINGDOM, is coming very soon: July 29th. #GeekedWeek "

-

https://bit.ly/3gcO0tk

The idea of seeing stores amd new style animation featuring these characters is just blowing my mind. Can't wait!

2021-06-08 10:00 pm by Unicron.com

➡️ bit.ly/TheChosenPrime_NewAge_H25-H26

The NewAge H25 Herbie and H26 Vanishing Point 2 pack set is now IN-STOCK and shipping from our sponsor The Chosen Prime. Pick yours up from the link above today!

2021-06-07 10:34 am by Unicron.com

Check out our BigBadToyStore weekly sponsor update!

~ bit.ly/BBTS_Weekely-Update_4-3-21

--------------
NEW PRE-ORDERS
--------------
Threezero is excited to announce the second figure from Marvel Studio's The Infinity Saga series, DLX Iron Man Mark 44 "Hulkbuster" armor. Mythic Legions is an expansive fantasy world of action figures created by the award winning Four Horsemen Studios. Calling all Prime 1 Studio fans! Team Godzilla and Team Kong folks will have to set aside their differences and agree…this is the ULTIMATE Godzilla vs Kong diorama! Blade Liger, one of the most popular original products in Kotobukiya's HMM Zoids Lineup, comes revamped with an all-new Attack Booster version! A new Pop! Deluxe figure features Iron Man putting his armor on in his gantry. When a lab accident causes half his DNA to be rewritten with a spider's genetic code, geneticist Miguel O'Hara becomes Spider-Man and is now part of the Marvel Legends line! Ciri from The Witcher 3 is now an action figure from McFarlane! Add to your Digimon collection with this figure set featuring MetalGreymon and WereGarurumon!

------------
NEW ARRIVALS
------------
Join the Mandalorian and characters from the show in the Star Wars Retro Collection. This all-new version of the Penguin from Batman Returns is ready to hit the campaign trail like a ton of bricks. The 1/4 scale action figure features the likeness of actor Danny DeVito, whose memorable performance as the twisted Oswald Cobblepot in the 1992 movie still defines the character. Bumblebee from the Transformers film of the same name is the first in the Transformers DLX Collectible Series! Bumblebee stands 8 inches tall, and features a whopping 55 points of articulation, LED illuminated eyes, interchangeable Stinger Blaster, and die-cast metal parts.

2021-06-06 9:03 pm by Unicron.com

X-Spanse - #Transformers #XMen Collaborative

It was impossible to take and edit these photos without humming the cartoon's theme song to myself! ~ Always have been a fan of the X-Men (comics, the cartoon series and films). and not to have a Transformers figure that turns into their iconic SR-71 Blackbird is the bomb! Although this isn't my favorite collab figure to date, I do like the design of the robot mode with nice touches such as the Cyclops visor, Wolverine claw, Psylocke blade. I like to think they developed this tech with the help of a Cybertronian partner to help them battle the Sentinel robots of the future!

Stay connected - via site & app:

unicron.com & TFDb

http://bit.ly/TFDb-app

2021-06-06 8:36 pm by Unicron.com

Maximal T-Wrecks In-Hand and In Package Photos

#Transformers #WarForCybertron

A phenomenal toy, worthy of a good solid retool. Photo cred 檀岛花事82912 on Weibo -

https://bit.ly/3fV7cLV

2021-06-06 8:18 am by Unicron.com

Check out the epic Summer Sale currently being put on by our sponsor TFsource.

~ bit.ly/TFsource_Summer-Sale_2021

2021-06-05 10:56 pm by Unicron.com

Grindor w/ Ravage In Package and In Hand! #StudioSeries #Transformers

More than just a straight re-issue of Blackout it appears designers added some improvements such as hand swivels, articulating fingers and a little more sand-weathered deco... as well as the me Ravage...

Photo cred: Vector Sigma on FB

https://bit.ly/3prSwXL

and Autobase Aichi -

https://bit.ly/3vXXazd

2021-06-05 10:43 pm by Unicron.com

#Transformers War For Cybertron: Kingdom w4 In Package

We get our first look courtesy of unknown author in Singapore. This round includes some eagerly anticipated figures such as Leader Class Galvatron, BW Scorponok, Tracks, Wingfinger, and Core Class Soundwave.

2021-06-01 8:26 pm by Unicron.com

Sideswipe (Earth mode) and Maximal "Skywarp"!

Special thanks to @Hasbro for passing along the additional images and info from this #Transformers Tuesday reveals. Love'm both, though I'm not sure I like the name "Maximal Skywarp?!" Of course, his design is based on the Maximal combiner component "Silverbolt...". The only forgivable excuse for not calling him Silverbolt is if there's a Fuzor Silverbolt in the pipeline and they didn't want to create confusion! ~ Time will tell.

Transformers: Generations War for Cybertron: Kingdom Battle Across Time Collection Deluxe WFC-K42 Sideswipe and Maximal Skywarp
(Ages 8 and Up / Approx. Retail Price: $44.99 / Available: November 1, 2021)

The Deluxe WFC-K42 SIDESWIPE and MAXIMAL SKYWARP Battle Across Time Collection includes a G1-inspired SIDESWIPE figure standing at 5.5 inches tall that converts from robot to sports car mode in 16 steps and a Beast Wars II-inspired MAXIMAL SKYWARP standing at 5.5 inches tall converts from robot to bald eagle mode in 22 steps. The figures come with a shoulder cannon, blaster and 2 Photon blaster accessories.

The Battle Across Time Collection allows fans to experience the clash between G1 and Beast Wars with MAXIMAL and AUTOBOT team-ups! With SCORPONOK in pursuit, SIDESWIPE and SKYWARP must team up to keep the DECEPTICON-PREDACON threat at bay. Each Battle Across Time pack features exclusive art that creates an epic battle scene when combined (each sold separately, subject to availability).

Beastify the battlefield! Worlds collide when the MAXIMALS and PREDACONS join the fight, coming together with the AUTOBOTS and DECEPTICONS in an epic battle that will alter their destiny forever. Adult fans nostalgic for the original TRANSFORMERS animation and kids discovering classic characters for the first time can share and experience exciting play patterns for all generations.

2021-05-30 6:17 pm by Unicron.com

PSA: Unicron SCAM WARNING

It has recently come to our attention that some internet troll has taken to impersonating us and our news feed at unicron.com, using our images and reposting our feed. Best guess is that they pretend to be us in an effort to get other people's personal info.

Beware, this is a SCAM. We're not doing any contests, you haven't won any prize ... If someone asks for your personal info, do NOT give it to them. They've been reported to Facebook admin, hopefully it'll be shut down soon. Thought in the meantime, we'd provide you a heads up!

2021-05-30 5:52 pm by Unicron.com

Thew Comes Through: Haslab Unicron

Do we get tired of watching fellow fans open and react to this magnificent toy? No, we do not. I think it's the way that the size and scale of this figure fills you with such awe, it makes you feel like you're 10 years old and opening your first Transformers toy again... I think that's why I continue to enjoy watching others experience it for the first time - even though we've already opened and experienced it ourselves firsthand. FWIW! Enjoy yet another "Dammit, Open!"

2021-05-30 2:13 pm by Unicron.com

#Transformers Earth Wars Celebrates 5-Year Anniversary w/ 5-Star Bot Giveaway

2021-05-28 10:16 pm by Unicron.com

bit.ly/TheChosenPrime_Newage_H29-H30

Newage Toys H29 Raum & H30 Vine Set, is now up for pre-order from our sponsor The Chosen Prime. Reserve yours from the link above reserve today!

2021-05-28 10:02 pm by Unicron.com

Check our the Memorial Day Weekend Sale from our sponsor TFsource, and score some serious savings on X-Transbots and Toy World items!

~ bit.ly/TFsource_Memorial-Weekend-Sale

Don't miss out!
Ends Monday 5/31

2021-05-27 3:58 pm by Unicron.com

Check out our sponsor BigBadToyStore's Weekly Update and make your next Transformers purchase from the link below to support Unicron.com today!

bit.ly/BBTS_Sponsor-Update_5-26-2021

--------------
NEW PRE-ORDERS
--------------
This Artfire figure is inspired by the original 1987 Targetmaster figure and comes with his Targetmaster partner, Nightstick, like in the original release. After many years, Hordak has finally arrived in Mondo's Masters of the Universe 1:6 Scale figure line. Featuring an awesome updated looked to his amor and weapons, this figure is covered in rich detail. Obadiah Stane suits up as the powerful Iron Monger to threaten Iron Man. After a long stint as second-in-command of Stark Industries, Stane is eager to exact revenge on Tony Stark and your Marvel Legends collection! Three new Studio Series figures have been revealed with Gnaw, Wreck-Gar and Dinobot Slug! Next in their line of Egyptian-themed figures, TBLeague brings the pharaoh Tutankhamun to life! From the popular anime series Inuyasha: The Final Act comes a Pop Up Parade figure of Inuyasha! This figure features Inuyasha in a standing pose carrying Tessaiga on his shoulder. Asmus Toys is excited to bring you Arwen! This figure features an authentic, realistic and fully detailed likeness of Arwen from The Lord of the Rings: The Return of the King.

------------
NEW ARRIVALS
------------
Storm Collectibles' NYCC exclusives from 2020 are here with Mortal Kombat's Motaro, Golden Axe's Skeleton Soldiers, Street Fighter V's E. Honda, and Samurai Shodown's Haohmaru. The first form of Frieza and his pod, as envisioned by creator Akira Toriyama, come to life in S.H.Figuarts. Standing a powerful 110mm tall, the figure features all of the poseability fans have come to expect from S.H.Figuarts. A detachable Scouter and Supernova effects let you re-create your favorite scenes. And Frieza's pod, a toy-series first, is rendered in accurate detail. Boglins are back in their original size and cages, but they have evolved! Super Saiyan 2 Goku has powered up the Pop! series with a PX Previews exclusive and is now in stock! Protect your surfaces with these retro NES cartridge-themed coasters! These coasters are in the shape of NES cartridges with double-sided art featuring 8 classic Nintendo games: Super Mario Bros., Super Mario Bros. 2, Super Mario Bros. 3, Duck Hunt, Donkey Kong, Excitebike, The Legend of Zelda, and of course Metroid! Wonder Woman, one of the mightiest heroes in the DC Universe, joins the Amazing Yamaguchi action figure lineup by Kaiyodo.

2021-05-25 9:12 pm by Unicron.com

HUFFER Gets His Day! #Transformers #WarForCybertron Kingdom Deluxe

"He looks through the world through sludge colored windshields. Will complain it cannot be built, then builds it anyway. Not too sociable, but absolutely reliable... Often unhappy and homesick for Cybertron.

- excerpt from original Tech Spec

Huffer wasn't exactly a top tier G1 Autobot, but as prominent as he was for me as a child, it's amazing that there have been SO few versions of the character over the years. If you don't count Kre-O, or a handful of orange Optimus Prime recolors and the Botcon exclusive... then only 3 toys of him have ever been made, the G1 original, a cool original mold character in the "Power Core Combiners" (2010)and now, FINALLY - a figure drawing from his show accurate appearance now in 2021 WFC Kingdom.

I love what this did with his design. The weapon shield that converts his alt mode from a tractor/trailer to a flat-bed truck... His alt mode is totally authentic to the original toy and appears nearly perfectly to scale w/ the Leader Class Optimus Prime trailer. His robot mode is (thank goodness!) NOT authentic tot the original toy, but near-perfect homage to his depiction in the Sunbow original cartoon series. EXACTLY what I want in a Huffer update.

I'm not too optimistic I'll see much of him in the #Netflix Kingdom series... But I'm perfectly okay with that. It's most about getting the definitive Huffer toy that makes that just fine by me.

Stay connected - via site & app:

unicron.com & TFDb

http://bit.ly/TFDb-app

2021-05-25 4:46 pm by Unicron.com

WFC-Kingdom Voyager Class Dinobot

I finally have him, the fan favorite character himself is finally here! Definitely one of the most standout characters from the Beast Wars era and WFC has done him justice. My initial thoughts upon getting the figure was WOW, the sculpt, the size, the articulation but most of all that face, it's straight out of the show.

The beast mode, as with many other kingdom beast modes, is very well done, better than I had imagined for being a regular retail figure, we really have come a long way since the original Dinobot figure from 1996/7. The mouth of the velociraptor can open, the hands are a bit odd in the pose they chose but they are on ball joints, we have movement at the elbow and shoulder, the legs are fixed at the hip due to transformation but you can move them outward and utilize the bends and swivels in the beast mode legs. Overall articulation in beast mode is nothing to write home about but it gets the job done.

The transformation from beast to robot mode is smooth and easy, it has a few moving parts,, some degree of complexity but nothing overly complicated and nothing that is too delicate. I really enjoy how the transformation is somewhat similar to the original figure.

Robot mode is the main attraction and Hasbro Takara Tomy has done an amazing job here. The first thing I'd like to talk about is the face sculpt, wow just wow, that is definitely Dinobot, there is no mistaking it, they got the colors, the eyes and the expression all down near perfectly. The chest, pelvis, legs and arms are all very well done. I think in the area of the robot mode appearance, the only area one might dislike is the size of the shoulders and maybe the total height and heft, Dinobot in the cartoon series was tall, very big and broad at the shoulders, since the shoulders here have to fit into the parts that form the side of the beast mode, they have to be small enough to fit. Going by the TV show, this Dinobot should be a little bit taller but this is Kingdom Dinobot and only a Voyager, if it were a Leader Class, I'm sure they would have been able to make him taller and broader without much compromise but these are nitpicks at best, overall the robot mode appearance is amazing.

Robot mode articulation is everything that we have come to expect from WFC, ankle tilt, waist swivel, wrist swivel and the like however due to the nature and design of the character, we have a few extras such as hinges at the wrists, the feet and heels can point downward and there is additional upward movement at the shoulders. Dinobots robot mode wouldn't be complete without his iconic sword and spinning tail shield and Hasbro Takara had recreated them here to great effect. The sword this time around is purple instead of silver possibly to blend in better with the tail color and unfortunately the tail doesn't have a free spin feature but I wasn't expecting one as such features have long since been abandoned in favor of an overall better figure as such features in the past at times compromised other areas of the figure and had the potential to use up a decent amount of the budget.

Dinobot is definitely one of my personal favorite characters from Beast Wars, his character arc, the growth and development that his character went through was groundbreaking for the time, I am very happy to finally have a great Dinobot figure to go on my modern BW shelf. What do you think of WFC Kingdom Voyager Class Dinobot? Is he a figure that you will be looking to add to your collection?

2021-05-23 7:22 pm by Unicron.com

Feed him to the Sharkticons! Deluxe Scale Gnaw #TransformersTheMovie #StudioSeries86 #Transformers Generations

First question: how many of these are you going to want for your collection?! This character/mold really is the ultimate troop builder! My answer: buy on sight

Like other figures officially revealed via Hasbro Pulse Fan First Friday livestream, we need a dedicated post to examine and talk about this monstrosity. Screen accurate, proper scale amd complete with his articulated mace weapon. The Studio Series 1986 line continues to fire on ALL cylinders. Keep'm comin @Hasbro.

Thanks to Hasbro PR for passing along the official product description and more official photography!

.....

Transformers: Studio Series 86-08 Deluxe The Transformers: The Movie Gnaw

(Ages 8 and Up / Approx. Retail Price: $19.99 / Available: August 1, 2021)

This Studio Series 86-08 Deluxe Class The Transformers: The Movie GNAW figure stands at 4.5 inches tall, features vivid, movie-inspired deco, comes with blaster and tail mace accessories, and converts from robot to SHARKTICON mode in 17 steps. GNAW also features translucent eyes and an articulated jaw and arms.

In the "Mockery of Justice scene" from The Transformers: The Movie GNAW and the SHARKTICONS lurk beneath the QUINTESSON Courtroom, ready to carry out the sentence of any bot unlucky enough to fall victim to QUINTESSON justice. Fans can remove the backdrop and pose the figure out and imagine recreating this classic movie moment!

Studio Series has always allowed fans to reach past the big screen and build the ultimate TRANSFORMERS collection inspired by iconic movie scenes from the TRANSFORMERS movie universe. Now, the Studio Series line is expanding to include the epic moments and characters from the classic The Transformers: The Movie, bringing fans a whole new series of screen-inspired figures to collect (each sold separately, subject to availability)! Available at most major toy retailers and for pre-order on HasbroPulse.com on Friday May 21, 2021 at 1pm ET.
---
Recent Site Updates: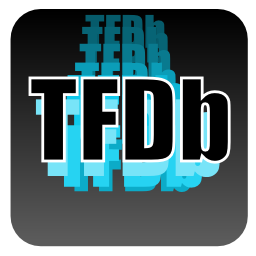 for Android & iOS
What is TFDB?