News & Updates:
2022-08-12 6:21 pm by Unicron.com

Transformers Legacy Deluxe Class Dragstrip

When I first saw promo images of Legacy Dragstrip, I was unsure of if I would dip my toes yet again into the combiner pool, CW Menasor and CW Dragstrip for many was a decent enough representation however after seeing more of Legacy Dragstrip, from every angle, I was sold and so was CW Menasor ~

One of the amazing things about Legacy Dragstrip is that he suffers absolutely zero compromises from being a combiner, there is no massive peg jutting out from his back or chest and there is no need to work his conversion around a huge block in his chest.

Legacy Dragstrip has all of the great articulation that we've come to expect and his profile is very clean in both robot mode and vehicle mode, there is what I would call zero kibble. Both his robot mode and alt mode look great, the conversion from robot to vehicle is very smooth and enjoyable. Legacy Dragstrip includes two energon infused weapons which can be combined.

If you have any interest at all in completing Menasor, you will need this figure, Dragstrip should be readily available at most retailers.

#Stunticons #Menasor

2022-08-10 11:12 pm by Unicron.com

#Botcon2022 Exclusive Sneak Peek! #BotconExclusive #Botcon

Featuring Motley Roo, Dragonfire, Sibelius and Albitron! The set was manufactured by 52 toys, for Ag@byss - convention hosts and organizers. These figures convert from BEASTBOX to #BeastMode. While they may not be official #Transformers per se, they're still a lot of fun. Plus, in as much as the Botcon name still caries weight with us, we're stoked it's making a comeback and have a chance to check these out and share with you, some of the goodies in store for convention attendees. BTW, did you know that as well as being a short form of "robot convention" … the name BOTCON is also short for the faction suffixes" AutoBOT and DeceptiCON … So clever! ~

The return of Botcon happens August 25-28 in Nashville, TN. …. Will we see you there???

For more info, check out www.botcon.com

Stay tuned, more to come- via site & app:

unicron.com & TFDb

http://bit.ly/TFDb-app

2022-08-09 11:41 am by Unicron.com

Legacy Motormaster, c/o YellaWolf Studios Product Photography

2022-08-08 10:18 pm by Unicron.com

8/8/1986 - 36 Years Ago Today #TransformersTheMovie Debuts in Theaters

Age 13, I was there. I laughed, I cried … and my life would never be the same. Thank you for all the memories. ~
#Transformers #Autobots #Decepticons #Unicron

2022-08-08 10:15 pm by Unicron.com

August 8th, 1986. Transformers the movie premiered in USA.

And nothing was ever the same!

What are your favorite moments of the movie?

PS:
Pic of one of my Museum displays in Southamerica/Perú *Admin TLA

2022-08-08 12:55 am by Unicron.com

bit.ly/TFsource_NewAge_MASCHINENMENSCH

Preorder the next installment of NewAge's Legendary Heroes line today through the link above to our sponsor TFsource!

2022-08-08 12:51 am by Unicron.com

~ bit.ly/TheChosenPrime_DNA-Design_LaserOP

Improve you Legacy Laser Optimus by preordering DNA Design's upgrade set at our sponsor TheChosenPrime!

2022-08-07 10:05 pm by Unicron.com

Velocitron 500 Cosmos, Override, Blurr

These toys should be arriving in stores quickly!

(Pardon the intended pun! ;)

In hand photos by Jhund the Jester -

https://bit.ly/3PeW1wk

2022-08-07 3:42 pm by Unicron.com

#Botcon2022 Exclusive Figure Reviews Coming Soon!

Convention is back August 25-28 in Nashville, TN. Who's going??? - www.botcon.com

Stay connected - via site & app:

unicron.com & TFDb

http://bit.ly/TFDb-app

2022-08-07 3:10 pm by Unicron.com

Arcee Gets Her Day(s) In the Spotlight!

#Transformers #StudioSeries86 #TransformersTheMovie

Been waiting decades for a decent representation of this character. Now we get two of the best iterations ever made in the same year! Better late than never!

Stay connected - via site & app:

unicron.com & TFDb

http://bit.ly/TFDb-app

2022-08-07 2:39 pm by Unicron.com

~ bit.ly/BBTS_Sponsor-Update-8-7-22
--------------
NEW PRE-ORDERS
--------------
Peter 2, making a surprise comeback after 20 years in "Spider-Man: No Way Home", joins S.H.Figuarts! Venom joins the S.H.Figuarts line! Super7 has SDCC Exclusives from brands like G.I.Joe, ThunderCats & More! Prepare for battle! Independent, but loyal to the monarch, The Rogue Heir of Elethorn is a nimble skirmisher deadly with small blades! The Black and Green Ranger have joined the Power Rangers Lightning Collection! Be sure to scroll through the latest releases to the Import Figures & Statues page! EXO-6 presents everyone's favorite Kelpien from Star Trek: Discovery, Commander Saru! Iron Studios has unleashed statues from some of our favorite brands like Marvel, MOTU, DC Comics & More! Super7 is proud to launch the newest wave of their ThunderCats Ultimates line! Daki and Gyutaro have joined the ConoFig line! From the Chinese animation, Kainar: Asy-Tac Fronteer comes this 1/100 scale model kit of Norma UNX-04S A-Type 2.0! Add some whimsy to your collection with the Wonderland Fairy Figurines! My friends call me Murphy. You can call me…RoboCop – and now you can add him to your 1/6 scale collection! Get a piece of the action with the newest additions to Mattel's WWE Elite Collection! From the Godzilla Against Mechagodzilla film, Godzilla is back in the S.H.MonsterArts lineup! Check out the latest releases in the Hot Toys line of figures! Joy Toy brings the Grey Knights from Warhammer 40k to life with this new series of 1/18 scale figures! Fox Forge Toys brings you the Dred Ops Legionnaire Trooper as part of the Star Dusk line! What's My Age Again? It better not be 23 – Funko Pop! brings to life Blink-182! A Diamond Comics 40th Anniversary release! It's been 35 years since the Ninja Turtles leaped onto television screens, and we're celebrating that milestone with a box set of TMNT Minimates! After a year in development, Tunshi Studio is proud to present the 1/12 scale Fiolina Germi from Metal Slug 3! Everything Louder Than Everything Else! The latest 7" scale ULTIMATES! Lemmy Kilmister! Dark Horse and Guerrilla have teamed up to bring you the Horizon Forbidden West Aloy Figure! Characters from Demon Slayer, Fate/ Overlord and more can be found on our Import Figures & Statues page! From Alphamax, the Dark Advent Sophia figure is based on the original character design by saitom!

------------
NEW ARRIVALS
------------
The Super7 ThunderCats Ultimates! are now in stock! Cobb Vanth & more are here from the Star Wars: The Black Series! Super Commando, Darth Vader & many more have arrived from Hasbro's Star Wars: The Vintage Collection! This looks like a job for superman! And lucky for us he is in stock as a Dynamic 8ction Heroes figure! Voltron: Defender of the Universe Carbotix Series Voltron has arrived! From the popular game Ghost of Tsushima comes a figma of the samurai known as "The Ghost," Jin Sakai – now in stock! Immerse yourself in the Jurassic age with Mattel's in-stock Mega On-the-Go Dinosaur Danger Set! Sonic the Hedgehog and Apex legends figures are in from Jakks Pacific! The Marvel Legends Legacy Collection Black Panther figures have arrived!

2022-08-07 2:23 am by Unicron.com

Transformers Studio Series 86 Deluxe Class Arcee

Did we need another Arcee figure? I didn't think so because I was satisfied with the WFC-E Arcee but after experiencing SS86 Arcee, I feel that the newer figure overall is definitely warranted as its a very different look and feel to the WFC-E although both figures have their advantages. If you have the T30 Arcee you may not feel the need to pick this figure up as it uses alot of the same parts however there's also enough new parts to give it a completely different feel especially in the lower body.

SS86 Arcee in robot mode has all the the great articulation that we have come to expect in modern times plus the addition of an ab crunch which is a byproduct of the transformation. The knees on SS86 are single jointed so that is one area where the Earthrise mold is superior as that version has doubled jointed knees. An interesting aspect of the robot mode that is similar to the WFC-E Arcee is that a portion of the backpack can be removed for a slightly cleaner look, this feature is not shown in the instructions so it may not be intended and may just be a fun coincidence, remove at your own risk.

The transformation from robot mode to vehicle includes 18 steps, the conversion is quick and enjoyable. The transformation of the SS86 Arcee is far more enjoyable than the WFC-E as that version can be very fidley.

The Alt mode of SS86 looks very similar to the different versions of Arcee that we have seen throughout Generations, nothing really new to speak of but nonetheless its a great alt mode that gets the job done.

Is this the best G1 styled Arcee generation figure? It just may be. Is Transformers Studio Series 86 Deluxe Class Arcee a figure that you'd like to add to your collection? Feel free to share your thoughts.

2022-08-06 10:54 pm by Unicron.com

Studio Series 86 Dinobots c/o YellaWolf Studios Product Photography

2022-08-06 7:04 pm by Unicron.com

Wait a second.

#Transformers

2022-08-06 3:08 pm by Unicron.com

Optimus Prime may have the Matrix in his chest but I have this mwhahaha.

#TransformersLegacy

2022-08-04 9:59 pm by Unicron.com

#StudioSeries86 Voyager Ironhide - Alt Mode Pix #Transformers #TransformersTheMovie

I would have waited an eternity for this!

… 35+ years in the making, It feels like we have!!! ~ properly scaled, G1 Ironhide! Bring it on Hasbro TAKARATOMY!!!

Leaking their way across the internet! …

Source(?) 蓝色正午 on Weibo

https://bit.ly/3OXdxEZ

2022-08-02 9:38 pm by Unicron.com

Rad custom (deco) Legacy Jhiaxus! #Transformers

C/o "Drinking About Robots" FB group:

"Cold. Clinical. And a little bit crazy.

Can't believe a toy of G2 Jhiaxus actually exists. Absolute carnage."

Source:

https://bit.ly/3JuotZB

2022-08-02 8:58 pm by Unicron.com

#Haslab Star Saber

#Transformers Hasbro TAKARATOMY

Images from the upcoming #Transformers Generations 2022 book.

Cred: 蓝色正午 on Weibo

https://bit.ly/3vwbzVl
---
Recent Site Updates: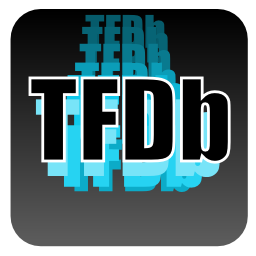 for Android & iOS
What is TFDB?